Sometimes I wonder if I am crazy to be taking planes, buses, trains, cars and ferries (sometimes donkeys) to get to far away places and photograph and speak to total strangers. Logging my camera bag, computer and a few female belongings, I have flown, driven and sailed for years. Sometimes I am lucky and travel in style, other times I have to search for the positive in getting salmonella, being sea sick, home sick, chased by dogs or being stuck on a tiny island in the middle of the Pacific because my bank shut down my cards. Fortunately, it seems that the moment I question my sanity, destiny brings me to a place, person or experience which somehow helps make perfect sense of my endless search of adventures.
A year ago someone showed me a picture of "Mario", a fisherman from Stromboli. I spent 30 minutes not letting go of the poor man's phone, staring at the expressive face, the white long beard, the deep wrinkles, the uncombed hair, and most of all the infinite depth of his stare. I was on the neighboring island of Panarea and immediately checked for the next ferry to Stromboli. I did find him, told him I had come specifically to shoot him and with a smirk he said "No problem, see you around!".. Over a few days of stories, pictures and walks around the island, I was let into his world of a fisherman/artist/volcanic explorer. The experience remained with me and I knew I would be back for more.
A year later, I was on a bumpy ferry ride for the 3-hour route Milazzo - Stromboli, which by now was becoming familiar. There are 8 islands in the archipelago, and as the ferry was docking and leaving each one, and my breakfast was raising inside me, I couldn't help but question my sanity. All I had as a way to reach out to Mario was his street name. I had sent him a letter in the mail with a few pics I had printed from our photoshoot the previous summer, and told him I would be back in May. I had no way of knowing he would be there, that he and his brothers would be available, that they would remember me or at least recognize me. This family gets photographed by people from around the world almost every day and we only saw each other for 3 days a year ago. I had devoted my time, spent money and my stomach was in a turmoil for nothing more than a total uncertainty. The sinking feeling was becoming stronger as the cone of the Stromboli profile appeared in the distance. Maybe I was crazy…
30 mins later Mario gave me a huge hug at the port where his usual spot is, and we were walking on via Roma, rushing to leave my bag at home so I could go out at sea with his brother Gaetano, about to make his afternoon fishing run. And so I felt normal again…
Round two of Tina's visit to Stromboli was exponentially amazing and rewarding. Not only they all remembered me, by the second morning they were waiting for me to come to the beach and photograph their morning catch. I would sit on the edge of the boat and shoot, watch, listen to their endless stories and jokes … and try to sell fish to the tourists and restaurant owners myself.
There are five brothers in the Cusolito family: Bartolo, Mario, Roberto, Gaetano and Salvatore. Mario "my model" is the fisherman/painter who has been filmed by famous movie makers, shot numerous times for National Geographic and his pictures have won photography contests. He has met Madonna, Dolce & Gabana and played a role in all movies shot on the island - "Stromboli" with Ingrid Bergman, "All of my women" with Zingarelli and many more. Gaetano, aka "Radio Kiss Kiss" because he doesn't stop talking, goes out at sea every day. He was married to a French and then to a German lady who both unfortunately went back to their respective countries. He lives alone with his nets in the family's old house which is never to be sold. Roberto is the lucky one because his son lives on the island and helps him out with the boats. Although he is camera shy, he is happy to talk and teach you all about the fish - especially the stingrays which glow in the dark. Bartolo is 82 so he only comes to the beach sometimes, but he is the only one with short hair and no beard. I did not meet Salvatore because he owns the bakery, works at night and doesn't come to the beach. There is also the "Viking", a non-Cusolito brother but with an equally long, curly hair and beard and with eyes of steel blue. He is the expert net maker.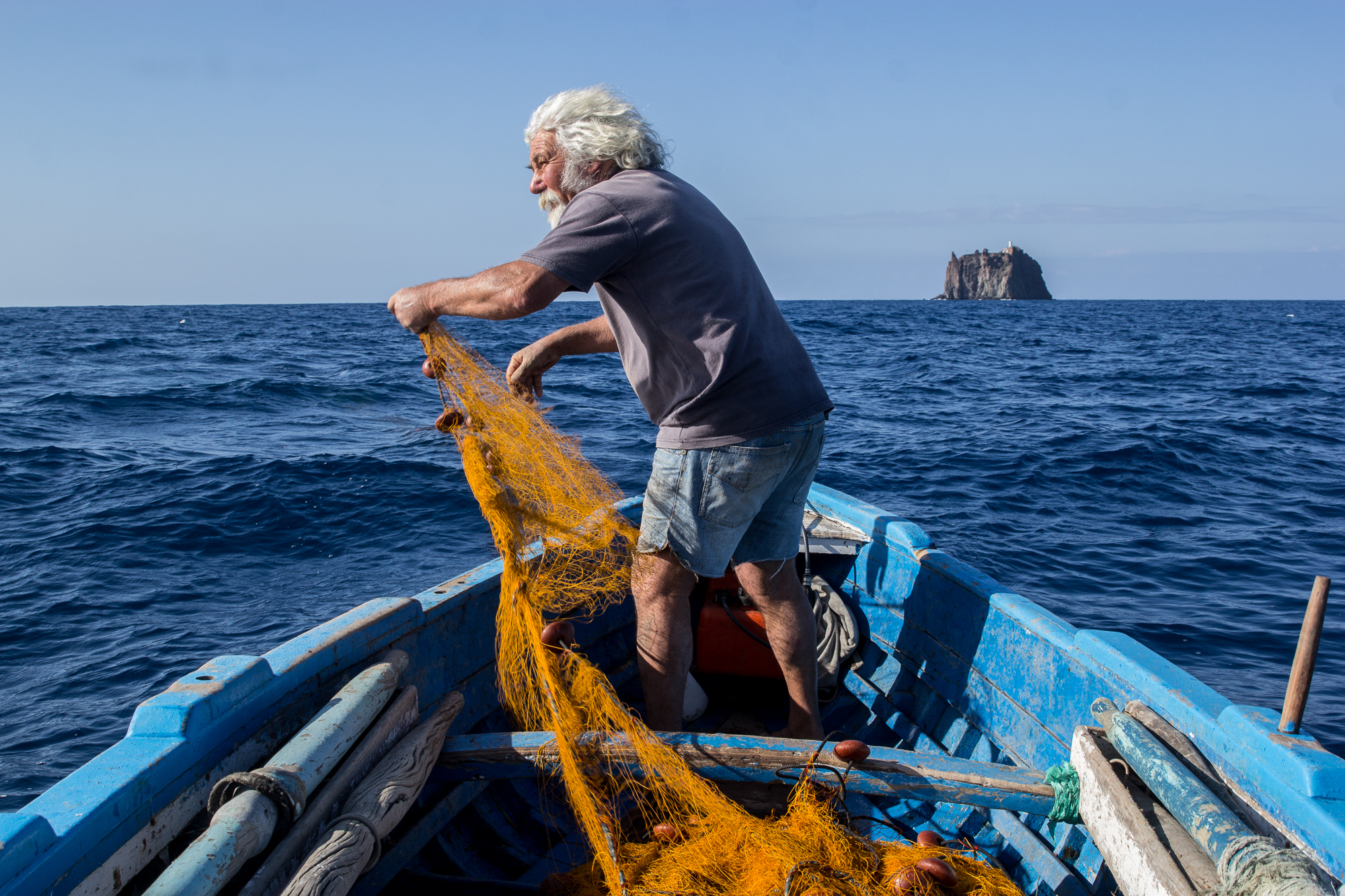 I had the privilege to be shown around into the Cusolito family house, with rooms full of family pictures, toys, fishermen tools, statues of saints and heart-shaped stones. All five brothers were borne in a room above the kitchen. Outside, there is still the old well and bucket their mom used to give them baths. The old sink where she did laundry is now used to marinate fish, and the stump ground where their father made wine, now contains water for the garden. Their grandfather Bartolo, immigrated to New York and died in Brooklyn in the 30s. The family received the passport and some remaining items in a box from New York, but don't know anything about what he did and how he died. Naturally, my next mission is to find out his story and grave in New York. The stories were endless, and the days would finish on the terrace with chipping paint and stunning views of the beach and Strombolicchio (later renamed to "Tina's belvedere"). They would cook fresh fish and salad, which Gaetano picked up straight from the garden where a barbie doll marked the potatoes.
The next day treated me with meeting Nino, the owner of "Ai Gechi", probably the best restaurant on the island. After I joking tried to sell him 3 fish for 50 euro, Nino in a typical Sicilian hospitality invited me and the fisherman to have dinner at his restaurant. He later told me he had been inviting them for five years but they never wanted to go until I decided to join. To say that it was a gourmet treat, would not be enough. Dishes with home spoked tuna, fresh made pasta with rock shrimp, mussels caught that morning, octopus from Ginostra (the next village over) were accompanied by a solid bottle of Sicilian Grillo and a generous doze of fascinating stories from his years on a naval ship in the Gibraltar. He was most proud to tell me about his life as a fisherman and teach me that tuna should only be eaten in May, swordfish in the first weeks of June and branzino in July because those are the seasons the fish come back to surface, cleansed after the winter. The evening ended with a label-less bottle of Malvasia, naturally home made by a fisherman in Salina, which made the stories, tastes and sounds from the dinner a blissful melange.
I was supposed to stay for only two nights and then continue to Filicudi and Alicudi, but the May seas were too high and kept me there for two more days, solidifying my bond with the island and the Cusolitos. Mario's two great grand children, a boy and a girl borne 3 days apart were getting baptized that weekend and I invited myself as a photographer. The family was filling up the cathedral while I was snapping away various combinations of parents, babies, uncles, aunts, grandparents, cousins and friends. There were 4 generations of "Strombolani" before me, some being the chatty kids under the colorful saints and others those in their 90s falling asleep in the pews. The grand finale had the two babies being lifted high in the air as a welcome to Christianity and then there was the family celebration. It was impossible for me to remember whose cousin, aunt or sibling everyone was, and I definitely did not want to impose on the occasion with my presence of a foreign woman/their grandfather's photographer. From my seemingly hidden corner I was observing the women talking about recipes, the chubby little girl trying to sneak a third cannolo from the table, the babies feeding, the men smoking, all with the constant supply of arancini, calzone and pizza, replaced by cakes, cannoli, and a dozen of other sweets. I could barely breathe when I left. In my effort not to be rude I accepted every plate which was brought my way. But most of all I was full of the excitement of having witnessed something so rare and special.
The last day sent me off with a bang: I gave Roberto "a headache" with my "constant clicking" while he was smoking his cigarette on top of a bucket; Mario introduced me to another hidden neighborhood for pictures, where the colors of the ginostra (yellow colored bushes), stand out on the black sand background of the schiara, while the sky blends with the sea; and Gaetano took me out with the boat for his sunset nets throw, naturally chatting to himself the whole time. I don't know what was more magical to witness: the view of Stromboli under the light illuminating through the clouds, the orange nets with the backdrop of the navy blue sea, Gaetano's hair and beard blowing in the wind as a live version of the "Old man and the sea" for which even Hemingway would envy me. Later in the evening, over my send off of fresh fish dinner on "Tina's belvedere" sipping Grillo, I was reflecting back to a year ago when I was a sitting in a clean corporate office, working with financial models and not seeing any purpose to life. I just couldn't help but feel the grandness and beauty of life.
Gratitude is what I was full of the day after as I was walking towards the port with Mario, about to embark on the same 3 hour bumpy ride back to Milazzo. I felt "in the family", in a home, where no-one judges or expects anything, they just are and let you be. I did spot a tear between the wrinkles and white curles waving in the wind, while I was barely holding mine back. He told me to be safe and to come back. Then instead of staying at the port until the ferry drops off the next load of tourists, as per his usual duty, Mario turned and headed to the beach where Gaetano was getting his boat and nets ready mumbling away non stop. I already could not wait to be back.
The pictures from my amazing days with the Cusolito brothers will be in exhibit at Palazzo Santo Stefano in Taormina from 20 August until 4 September. I hope my models themselves can make an appearance and see the result of what was causing some of them headaches, and others having to take a skinny foreign girl in their boat and disturb the regular cycle of their day. THANK YOU Mario and brothers, Grazie Sicilia, thank you my Canon 60D for never breaking down on me even under a little bit of salt water. I am loving life because of you.